A few years back we were talking about disruption in the economy and how the Internet and IOT can dramatically change the way people work to create winners and losers. Perhaps we did not understand the true meaning of the word 'disruption' till we got hit with the Corona Virus. Today it is acknowledged as the single largest disruptor of all time – wreaking total havoc on global economies, causing bankruptcies, unimaginable losses and bringing global air traffic to a grinding halt. The only thing flying around freely is the Corona Virus.
Everyone from CEOs, Executives, blue collar workers all have to re-think and re-strategize careers and jobs over the next decade. Millions of workers have lost jobs, lost money, and no one really knows for sure as on today when this will all end. The virus has thrown up threats and also opportunities and has created a totally new breed for winners and losers. Here is the list: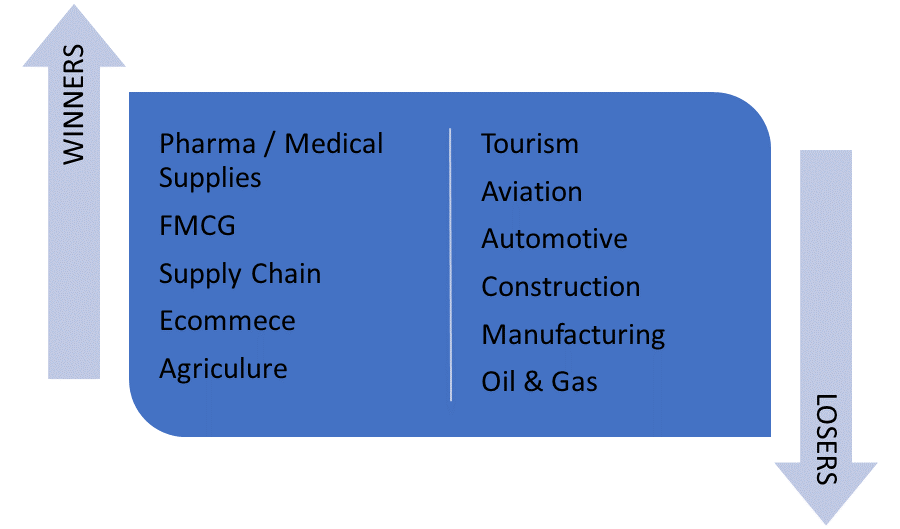 THERE ARE SEVERAL ISSUES TO CONSIDER:
Your timing for a move  :
From the data available it looks like , we may need to dig in and be prepared to learn how to live with the virus for some time. Being proactive and taking a closer look at the companies that are growing, innovating will give you an idea of opportunities out there. The smarter companies are reinventing their game and making changes in the portfolio of products and services.
The pandemic has put us all in the defensive mode and caught us totally unprepared both – financially and  psychologically. We need to strike the right balance between reducing risk , taking a close look at growth opportunity and forecasting future growth of companies. To move or not to move is an important question. Looking at options and reviewing your network, job opportunities, and scaling up on competencies is a must.
Be flexible with your options – wear more than one hat:
We are entering an unknown stage and it will no longer be business as usual. Covid has threatened the world but has also taught us to question and re-think the way we work. Several multinationals are re-considering the need for office and the benefits of WFH.  Focus today is more on ' achieving targets' and not just  'marking attendance' which may soon be a thing of the past. It will be good for executives to develop more than one career hat and be prepared to take on different roles . As companies will be forced to cut costs and get into the survival mode  they will look for executives who can ' deliver ' and not ' just talk ' .  As a leading Executive Search firm in the APAC region we see top managers  will need to make the change and re-design the CV depending on the job opportunities .
 Preparing for the move
With most companies encouraging executives to WFH , we have the advantage of time and opportunity for  career reinvention by building relationships , adding knowledge, skills, and competencies  that could lead to another job or enhance your career growth in the same company . Several leading educational institutes are opening up their libraries and many offering free courses during the Covid period. Grab these opportunities and work harder as things could go from bad to worse and only the fittest or most flexible will survive. Few specific things to do :
Review your CV and rewrite this in the current context of Covid, new skills that would be in demand . (How to Write a CV)
Video interviews : Face it – there will be more video interviews and less face to face meetings . Learn the techniques of video interviewing and the dos and don'ts . Learn to use and master popular online conferencing tools – Zoom, Microsoft Teams , Google Meet, etc. and don't look confused if asked to come online – this itself could disqualify you .( YOUR JOB INTERVIEW: ARE YOU READY?)
Brush up on interviewing skills and how to face an interview – anticipate the top 10 questions that you may be asked and prepare for this  (Interview Advice)
Build up and renew your network of contacts : headhunters , HR Managers, CEOs .
Social Media : Build up your social image and contact on LinkedIn , Facebook and Twitter
Apathy in the current juncture is risky , however , as history has shown us the virus will not last for ever , business will re-open , but with a 'new normal '. Let us learn from the situation, adapt, renew and be prepared .